Product Review
Bifido and SIBO help probiotics.
Bifido for SIBO help is a multi patented solution.
Hyperbiotics Pro-Bifido Probiotic Support for Ages 50 Plus—60 Vegetarian Tablets | 7 Targeted Strains & 3 Billion CFU
GOS from dairy sources is better than FOS.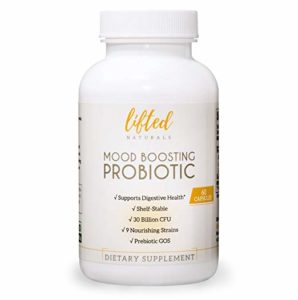 Probiotic – Mood Boosting Probiotic – Anxiety Formula w/ GOS Prebiotic – Probiotics for Gut Health – Digestive + Immune Blend – Prebiotics for Mental Support
We've included a POWERFUL prebiotic to help you feel better.
Our blend is especially potent with our PREBIOTIC, GOS– the the ONLY prebiotic that's been proven to help with anxiety.
Galacto-oligosaccharides are produced through the enzymatic conversion of  lactose a component of bovine milk.
Because of the configuration of their glycosidic bonds, galacto-oligosaccharides (GOS) largely resist hydrolysis by salivary and intestinal Galacto-oligosaccharides are classified as prebiotics, defined as non-digestible food ingredients that beneficially affect the host by stimulating the growth and/or activity of beneficial bacteria in the colon. The increased activity of these health-promoting bacteria results in a number of effects, both directly by the bacteria themselves or indirectly by the  they produce via fermentation. Examples of effects are stimulation of immune functions, absorption of essential nutrients, and syntheses of certain vitamins.
Galacto-oligosaccharides are a substrate for bacteria, such as bifidobacteria and lactobacilli. Studies with infants and adults have shown that foods or drinks enriched with galacto-oligosaccharides result in a significant increase in bifidobacteria. Read more
October 5, 2018
This stuff basically cured my anxiety when taken overtime. Gut health has shown to be highly related to brain health– having healthy gut bacteria sends signals to your brain to relax. Research shows this also having healthy gut bacteria actually repairs the blood brain barrier, which becomes damaged overtime due to relentless stress and anxiety.
This stuff works almost too well. After 4 months taking this daily and feeling much better than when I started, the effects are still profound. I find that this can make you feel a tad bit off, almost too calm and clear, it's slightly off putting when surrounded by nominally stressed individuals haha. But if when you're deeply suffering from anxiety, I urge you to please try this".
July 24, 2018
I take this product with an SSRI and a mood stabilizer. The product nothing short of amazing and works better the longer you take it!!! I'm very in tune with my body and noticed a difference the first day! It has helped tremendously with both depression and anxiety. About 3 weeks in I found myself listening to the radio in the morning staring to beebop a little dance along with the radio…..in….the…..MORNING!!! 🙂
I've taken it for about 2 months now and I have found my love of music again, I really missed that about myself! I used to turn the music up loud and sing and dance at home, before this product I hadn't done that for a loooong time. But I'm doing it again now! I find myself connecting and paying attention to things more. My anxiety is way down and I'm able to handle stressful things at work much better and I'm not as irritable. My mood is lighter and I'm just happier in general.
I take this supplement in the evening as it chills me out too much to take during the day. However, my best friend takes it during the day as it gives her energy. You'll just have to try it out and find out what part of the day works best for you.
I never put anything on auto-ship but I just did with this one last week! I seriously do not want to forget to order and be without this stuff!
A WORD OF CAUTION WHEN TAKING WITH PRESCRIPTION MEDICATION: Start SLOW. I started with 1/2 a pill for about a week and then moved up from there to find the right dose for me. It took me about a month and a half to find the right dose but I've settled on 1 and 3/4 of a pill per day. If I take 2 whole pills I'm a little tired and my motivation suffers.
I have seen some people say they can stop taking prescription medication with this, however, I feel I have a need for both. However, modern medication has only gotten depression and anxiety to "ok" levels. With the addition of supplements, I think we can get to "great" levels".
Florastor is a daily probiotic supplement that strengthens your digestive balance and supports a healthy immune system. Florastor is the ONLY probiotic brand with Saccharomyces boulardii lyo CNCM I-745, a unique probiotic strain with a larger, stronger cell structure than other probiotics.
Saccharomyces boulardii lyo CNCM I-745 is shown to help boost your body's natural production of IgA – an important antibody in your digestive system that helps fight off potentially harmful bacteria. Some people can't tolerate.
Florastor Daily Probiotic Supplement for Men and Women – Saccharomyces Boulardii lyo CNCM I-745 (250 mg; 100 Capsules)
Do not suggest FOS but high bifido count which may help counteract FOS.
Nature's Way Primadophilus Optima Max Bifido 90 Billion Active Probiotics, Vegetarian Capsules, 30 Count
I used these when I began, definitely live bacteria.
Bifido Complex Advanced Formula Capsules – Hypoallergenic | 60 Vegetarian Capsules | Gluten Free | Casein Free | Probiotic
Review
While I did not review all of these products I did use bifido only strains as an addition to natural oral immune therapy. Due to new research it is much easier to find bifido only strains today and some of these are new products. 
Bifido has clinically shown therapeutic effects specifically for SIBO and helps mimic the colonization of the newborn to induce homeostasis and the bifido bloom that occurs after birth. I do not believe any probiotics are effective without whole fat mammal milk. GOS may be a suitable pre biotic when derived from dairy sources. Even though probiotics are controversial in SIBO treatment, most people can tolerate bifido only strains or bifido and acidophilus or the few strains in yogurts such as Activia. I also would not attempt any gut treatment program without bovine colostrum as the primary means of eliminating bacterial overgrowth and the other associated symptoms in the the majority of gut conditions as a multi factor treatment that addresses all symptoms including diarrheal and toxin related.
buy here
 Colostrum Bovine 16oz Powder #1 Best Value on Amazon 50% DISCOUNT TODAY! 100% Whole Nothing Added, Collected 1st Milking Only, Maximum Biological Activity, Contains Natural Occurring Probiotics, High Ig, Ld, Plus Lactoferrin, Nutritional Immune Support Supplement for Pets, Dogs, Kids, Adults, Athletes, GUARANTEED