Rhamnosus GG prevents Intestinal Infection By E. Coli
Objective: To assess the protective effect of the novel postbiotic HM0539 from Lactobacillus rhamnosus GG against intestinal infection by enterohemorrhagic E. coli O157: H7
HM0539 not only inhibits the adhesion and invasion of E. coli O157: H7 to HT-29 cells, but also enhances the resistance against E. coli O157: H7 infection in mice by attenuating the destruction of mucin and tight junction proteins.
What is a post biotic?
Postbiotics refers to soluble factors (products or metabolic byproducts), secreted by live bacteria, or released after bacterial lysis, such as enzymes, peptides, teichoic acids, peptidoglycan-derived muropeptides, polysaccharides, cell surface proteins, and organic acids. These postbiotics have drawn attention because of their clear chemical structure, safety dose parameters, long shelf life and the content of various signaling molecules which may have anti-inflammatory, immunomodulatory, anti-obesogenic, antihypertensive, hypocholesterolemic, anti-proliferative, and antioxidant activities. These properties suggest that postbiotics may contribute, to the improvement of host health by improving specific physiological functions, even though the exact mechanisms have not been entirely elucidated.
There are over 200 known metabolites produced via  conversion of milk and colostrum substrates to GcMaf that offer benefit to the host. More are being discovered in current research.
My Favorite Probiotic Complexes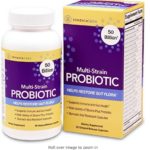 22
Multi-Strain Probiotic Blend – 50 Billion CFU [Lactobacillus casei subsp. casei SD-5842, Lactobacillus fermentum SD-5847, Lactococcus lactis subsp. lactis SD-5848, Pediococcus acidilactici SD-5866, Bifidobacterium lactis Bl-04 SD-5219, Lactobacillus paracasei Lpc-37 SD-5275, Bifidobacterium bifidum SD-5857, Bifidobacterium longum SD-5844, Bifidobacterium longum Bl-05 SD-5588, Lactobacillus acidophilus LA02 DSM-21717, Lactobacillus acidophilus La-14 SD-5212, Lactobacillus brevis Lbr-35 SD-5214, Lactobacillus casei subsp. casei Lc-11 SD-5213, Lactobacillus gasseri Lg-36 SD-5585, Lactobacillus gasseri DSM 16737, Lactobacillus helveticus SD-5861, Lactobacillus plantarum Lp-115 SD-5209, Lactobacillus rhamnosus SD-5839, Lactobacillus rhamnosus GG ATCC-53103, Lactobacillus rhamnosus Lr-32 SD-5217, Lactobacillus salivarius SD-5851, Streptococcus thermophilus St-21 SD-5207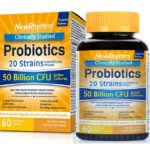 20
L. acidophilus, L. rhamnosus, L. crispatus, L. plantarum, L. paracasei, L. bulgaricus, L. reuteri, L. casei, L. salivarius, L. helveticus, L. gasseri, B. lactis, Pediococcus pentosaceus, B. breve, B. adolescentis, B. infantis, B. longum, Lactococcus lactis, Pediococcus acidilactici, Streptococcus thermophiles.