March 2019
in this issue:
The Combo Oils That You Need To Decrease Inflammation
What can you do to decrease inflammation fast?
Welcome to the March issue of Alternavita Monthly© magazine!
In this issue learn why the right oils are necessary to decrease pain and inflammation, especially in the gut, and how science is finally understanding not only their importance but why previous studies may have been misleading by not including this important addition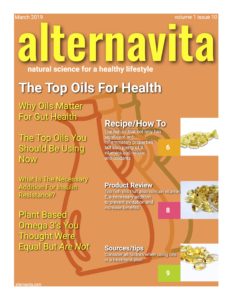 that alleviates oxidative stress, especially in fish oils.
Some oils while beneficial are extremely prone to oxidation and this includes fish oil. In addition the oils that fish consume can have a direct impact on the resulting fatty acid composition that ends up in you. Plant based Omega 3's like flax are also not as beneficial as previously thought even while they are presumed to be equivalent. Contrary to current trends some popular oils like coconut and Mct oil are highly inflammatory when used alone as a treatment option. Learn which oils offer across the board benefits and include them in small amounts in your healthy lifestyle plan.
Thanks for reading this March issue!
 
February 2019
in this issue:
Why SIBO Matters
Why does a proper diagnosis for SIBO matter?
Welcome to the February 2019 issue of Alternavita Monthly© magazine! 
I began my trek back to natural oral immune therapy because of SIBO and I have continued to watch SIBO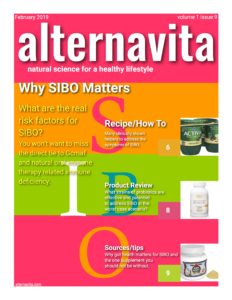 research in particular as it continues to dismantle the labels associated with it like IBS. SIBO dysbiosis that can begin in the infant gut is a given and accepted model today, namely through its toxin H2S as a gasotransmitter. Thanks to the work of Dr. Henry Lin, an H2S expert, I have long held that H2S SIBO is among the most harmful dysbiosis conditions in its effects. As a condition that quickly spread through the industrialized world SIBO is not a new condition but is one that has broken ground in gut immune health research due to its association with so many direct downstream conditions that are quite deadly. SIBO also produces severe malnutrition effects that are associated with its cause such as B12 deficiency. SIBO is also correlated with inability to digest carbohydrates, especially wheat. SIBO has emerged as a gut condition that demands a proper worldwide test for its most dangerous form, H2S SIBO to prevent future costly and deadly childhood and adult diseases.
Thanks for reading this issue!
 
January 2019
in this issue:
The Gut Liver Axis
Bovine colostrum derived immune factors in addition to Gcmaf are one of the few known easy access supplements proposed for clinical use in liver failure on the market today but that may soon be changing with fast growing demand and big money bio tech involvement in the market
What supplements really benefit liver detoxification?
Welcome to the January issue of Alternavita Monthly© magazine!
In this issue learn what really helps rid the liver of toxins like ammonia and H2S and is used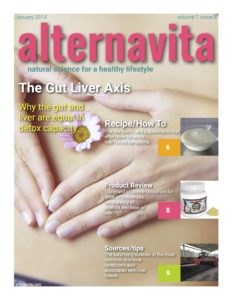 clinically in several new pharmaceutical drugs.
Liver disease is one of the fastest growing acute conditions in the world today with an incidence of 24% among the world population, and which is only expected to increase in the next few decades. Many of the newest natural oral immune therapy pharmaceuticals will eventually offer treatment for several pediatric liver diseases making this condition one of the most urgent unmet needs in healthcare.
Unfortunately, most drugs today like Tylenol, and many others only exacerbate liver intoxication, and immune deficiency, and foods like high fructose corn syrup are also believed to be highly associated with fatty liver disease not caused by alcohol making this condition a major threat with many common risk factors, and a high incidence of mortality.
Thanks for reading this issue!
 
December 2018
in this issue:
The Alternative Lifestyle
Lifestyle modifications that really make a difference.
Lifestyle Modification
Lifestyle modification for the rest of us…
Welcome to the December issue of Alternavita Monthly© magazine!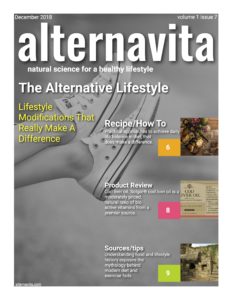 In this issue learn the lifestyle practices from proven science that I personally use to help me achieve long term physical health goals.
I am just like the majority. I despise diets because no human in real history dieted. They ate food and they celebrated food. They had a healthy mental perspective on all things in life. Leisure food did not exist and work was a requirement if anyone wanted to eat food. I also don't care for expensive gym class, in lieu of physical activity that is restorative. I didn't always practice mental balance until I had to get serious about all of it and change course toward a direction that set me on a much better path. I know my temperament, if it is not practical, I might do it but I won't stick with it. If I don't see real results in a short time frame I am also prone to discouragement. If it isn't safe, and effective, I won't touch it. If it doesn't work within my hectic lifestyle I am also very likely to drop it, so over the years I had to adapt proven science to fit me, and that is what this issue is all about.
Thanks for reading this December issue!
 
November 2018
in this issue:
WHO Millennium Babies
Better late than never.
Welcome to the November issue of Alternavita Monthly© magazine!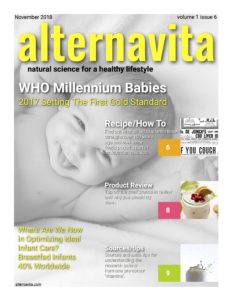 I have been a student of nutritional history for a decade and I have always been intrigued as to how and why certain foods became demonized and then slowly eliminated from our diets in the search for health. The answer is simple and it lies in refining and refined foods but not necessarily in their un-refined versions. Since learning that cod liver oil has been reported to prevent Type 1 Diabetes in infants if given in the first year of life and the important advancement of bio active peptides as discovered from other fermented foods, I have been obsessed with unlocking these nutritional secrets only to find researchers of yore were not so clueless and knew almost to the molecule, how, what, why, and when because they used these exact foods to produce malnutrition syndromes in animals as early as 1912 and it led to massive food re-fortification programs.
I am happy to share the long awaited confirmation of over 150 years of nutrition research and the gold medal standards necessary to move forward as outlined to clinicians from WHO. About time!
Thanks for reading the November issue!
 
October 2018
in this special issue:
Alternavita Daily Program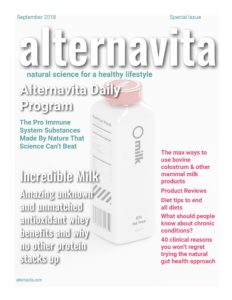 The Pro Immune System Substances Made By Nature That Science Can't Beat
Incredible Milk
Amazing unknown and unmatched antioxidant whey benefits and why no other protein stacks up
The max ways to use bovine colostrum & other mammal milk products
Product Reviews
Diet tips to endall diets
What should people know about chronic conditions?
40 clinical reasons you won't regret trying the natural gut health approach
3.5 years and the scientific consensus and evidence that is quickly building in support of natural oral immune therapy and all that evidence validates SIBO science too. The clinically proven substances that are being proposed for clinical practice today, in one volume. Every milk component, the key beneficial organisms down to the very molecules and their benefits highlighted for easy reference, plus the max ways to use them.
Why extreme diets are a waste of time for immuno-tolerance and SIBO, the mammalian milk diet is the most ancient in continuous use diet that helped establish the micro biome and the immune system (GALT) and helps continuously re-establish it and keep it healthy.  Easy daily recipes and how to easily ferment too.
15 pages
in this issue:
Are we any closer to understanding yogurt?
Welcome to the October issue of Alternavita Monthly© magazine!
There is a right
approach to taking any
probiotic capsule and
here is help to know
where to begin. Learn
the cues of how nature
began in the formation
of the microbiome, the
restoration begins there
too. Read along for a brief history of how yogurt science evolved from a simple observation on longevity in a peasant culture (without the benefit of modern healthcare) from the "Father Of Natural Immunity" to the probiotic capsule. Don't just pop a probiotic capsule in your mouth and hope, learn from "Mother Nature" and from science too!
Health news about probiotics is confusing and with a gazillion probiotic strains brands and now origins, out there how can you choose the right ones? A few tips on the required minimum basics to look for to ensure you are getting a pro-biotic and why the term may soon be illegal in some countries.
Thanks for reading the October issue!
M.Ferrari
 
September 2018
New store and product availability, use PayPal or Stripe, safe, secure and easy checkouts.
New menu layout.
 
September 2018
Alternavita Daily. Posts that continue to reveal new research about oral immune therapy and gut/immune related issues.
New, June, July and August Alternavita Magazine© Bundle.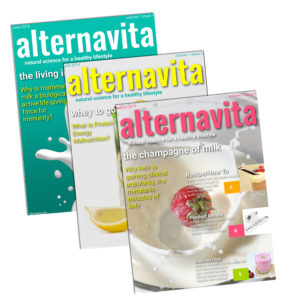 Daily News Ticker, the right track for the proper perspective in which to view the history of modern disease.
 
September 2018
in this issue:
Kefir is gaining clinical momentum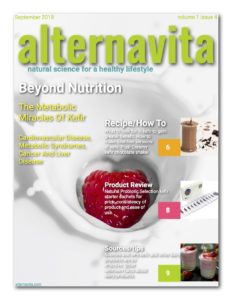 Today many doctors are recommending kefir to patients
Welcome to the September issue of Alternavita Monthly© magazine!
In this issue learn why kefir is quickly making clinical inroads as a functional food with a high effectiveness profile against increasing worldwide negative health outcomes that greatly affect large swaths of populations with estimates ranging from 10-84% negatively affected by metabolic syndrome conditions. Doctors are becoming so alarmed they are searching for new ways to quickly reverse the trend. Ways that are easily accepted by patients, like daily consumption of kefir.
Learn about trusted food products that I have used myself, including store bought and starter cultures with no difference in effectiveness from traditional grains. See the amazing discoveries that have led to renewed interest in dairy products and how research is desperately trying to unlock their secrets, often to no avail, and why dairy whey by products in particular are best kept in more natural states.
Thanks for reading this September issue!
August
2018
in this issue:
Kefir is the champagne of probiotics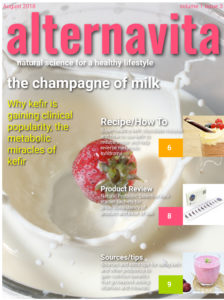 Why you should take advantage of the amazing benefits of kefir daily for prevention and reversal of common syndromes
Welcome to the August issue of Alternavita Monthly© magazine!
Kefir is an amazing functional food that has benefits that extend far beyond the basic organisms as can be found in yogurt and that are important for metabolic health, including brain metabolism, immune function and intestinal homeostasis and is being researched today for its anti cancer properties against difficult to treat cancers like lung and liver cancer. It is also a nutritional powerhouse that creates crucial vitamins and bio active minerals that are nearly impossible to assimilate from food or a pill. Kefir is an easily tolerated milk alternative.
You will also find a super easy, tasty, sugar free (or not) chocolate mousse recipe made from kefir cream and some easy tips to make the most of kefir as a tool for reducing sugar content in food, especially fructose. The product review features a very good commercial kefir starter that is easy to use and packed with lactic acid bacteria and friendly yeast.
Thanks for reading the August issue!
July 2018
in this issue:
Combatting Protein Energy Malnutrition With Liquid Whey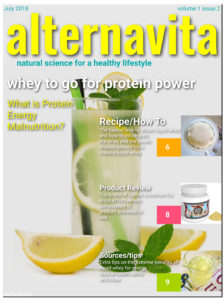 What can you do to alleviate the worldwide problem of protein energy malnutriton (PEM)?
In this July 2018 issue of Alternavita Monthly Magazine© learn about liquid whey, another waste by product that can help alleviate worldwide malnutrition as well as help you combat serious health problems caused by poor diet malnutrition, namely protein energy malnutrition, including the detrimental effects that this particular
form of malnutrition can have on gut, immune, mental and reproductive health, especially for non milk drinkers who are not able to derive the important benefits as can be found in milk due to severe casein intolerance. Forget the coffee and see real energy benefits from this form of pure, fast absorbed protein!
You will also learn the easiest method of obtaining liquid whey that retains all the probiotics of the pre-strained product and then concentrates others in their 100% bio
available forms. Finally, what to do with the cream cheese leftover and how to use all that whey to make healthier fermented fruit juices with less sugar.
Thanks for reading this July 2018 issue!
1/8- 1/4 cup per day of liquid whey is ideal for most.
I personally always dilute my liquid whey by adding it back to whole fat mammal milk (all recipes in magazine are diluted and are maximum daily amounts in my opinion, GAPS recommendation differs) as a buffer in addition to getting that oleic acid, chondroitin sulfate and natural calcium from milk (mineral supplement calcium does not work properly); it makes for a superior drink and then colostrum dissolves easily as well in the added whole milk fat.
Fast facts:
Lactalbumin (found in liquid whey), directly kills cancer cells when complexed with oleic acid (HAMLET) but does not affect healthy cells.
The lipid fraction of whey free fatty acids specifically inhibit the germination of Candida albicans, a morphologic change associated with pathogenicity.
June 2018
in this issue:
Colostrum and mammal milk are vital for lifelong health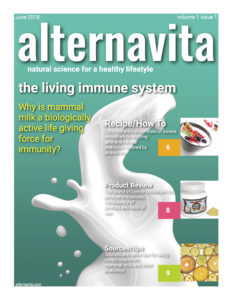 What can you do if you missed out on this living immune system for optimal health?
Welcome to the debut issue of Alternavita Monthly© magazine!
In this issue learn to get off the trendy track by choosing nature's superior bio foods that offer nutrition that no synthetic drug can match. Learn why top medical research
universities and the food industry are taking a second look at these amazing functional foods for health. Can you believe a few short decades ago they were considered waste products?
You will also find the tried and true from Alternavita blog and some easy new twists. Learn more about trusted functional food products of yesterday and how to use them today. Cut to the chase functional food market trends and see how you can be ahead of the curve by making them at home as I learned to do. Get superior life long health benefits and enjoy the tremendous cost saving benefit of being savvy, not trendy!
Thanks for reading this debut issue!
Save
Save
Save
Save
Save
Save
Save
Save
Save
Save
Save
Save
Save
Save
Save
Save
Save
Save
Save
Save
Save
Save
Save
Save
Save