Alternavita Magazine© Product Review 
Product Reviews
Solgar® Cod Liver Oil
Solgar® Cod Liver Oil provides Vitamins A and D to support a healthy immune system, promote healthy eyes and vision, and support bone health.* The oil used in this formulation has been molecularly distilled to remove contaminants.
Cod liver oil provides many proven benefits including for metabolic syndrome and lung conditions like tuberculosis and flu.
Cod liver oil is highly effective at slowing the destruction of joint cartilage.Works for both RA or osteoarthritis.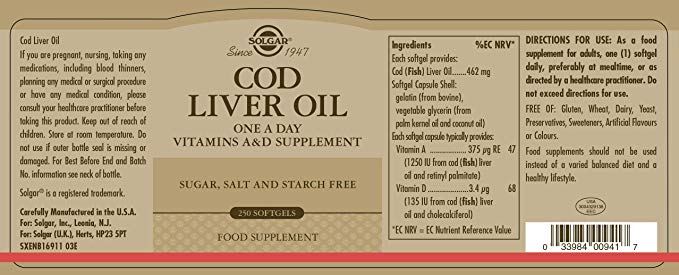 The main difference between cod liver oil and fish oil is that cod liver oil is high in vitamin D. In warm weather, the sunshine produces high and usually sufficient levels of vitamin D without any supplementation necessary. It is not recommended consuming cod liver oil in the warm weather months or climates, as this can result in an excess of vitamin D in your system and consequential complications. In cool weather, your body needs more vitamin D, and so cod liver oil versus fish oil is recommended in the cool weather months or climates. A general rule is, take cod liver oil from autumn to early spring. Adjust accordingly the closer or farther from the equator you live.
Solgar® provides a good cod liver oil readily available for convenience for those who don't like the taste of any cod liver oil and prefer a capsule, especially kids. 
It is an effective product with the correct ratios and correct amounts of vitamin A and D in bio active distilled form from a good source of Norwegian Cod. I had the occasion to try this brand when my preferred liquid no longer became available, and it was immediately effective for when I begin to take cod liver oil which is fall and winter only. 
One softgel is sufficient which I prefer, and it is very moderately priced for 250 softgels. It lasts a complete season for our entire family. 
I can give it easily to my pets daily as well by squeezing out the contents of a softgel into their food along with some grass fed butter.
This cod liver oil does not have added synthetic vitamins. Something you have to be extremely careful to watch for. Some cod liver oil producers add both synthetic vitamins and other oil fillers like flax or sunflower, a recent occurrence in some brands that used to be completely free of both making cod liver oil a purchase that now has to be carefully sourced to avoid additions that you don't want.
History
The Solgar Gold Standard™
Solgar has been manufacturing fine quality nutritional supplements for over 60 years in an industry that is constantly evolving. Throughout these changes, we have never lost sight of our original mission – to provide consumers with the highest quality nutritional products and information to help promote optimal health. Our attention to detail from manufacturing through distribution has enabled us to set, maintain, and continually raise the Gold Standard™ for quality nutritional supplements, education, and service.
Solgar has been innovating and producing fine quality nutritional supplements since 1947.
Buy Now
Immune Health News
'A blizzard of prescriptions': Documents reveal new details about Purdue's marketing of OxyContin. Five years later, as questions were raised about the risk of addiction and overdoses that came with taking OxyContin and opioid medications, Sackler outlined a strategy that critics have long accused the company of unleashing: divert the blame onto others, particularly the people who became addicted to opioids themselves. "We have to hammer on the abusers in every way possible," Sackler wrote in an email in February 2001. "They are the culprits and the problem. They are reckless criminals."
Malnutrition  is the leading cause of death worldwide in children under the age of five, and is the focus of the first World Health Organization (WHO) Millennium Development Goal. Breastfeeding, food and water security are major protective factors against malnutrition and critical factors in the maturation of healthy gut microbiota, characterized by a transient bifidobacterial bloom before a global rise in anaerobes. Early depletion in gut Bifidobacterium longum, a typical maternal probiotic, known to inhibit pathogens, represents the first step in gut microbiota alteration associated with severe acute malnutrition (SAM). Later, the absence of the Healthy Mature Anaerobic Gut Microbiota (HMAGM) leads to deficient energy harvest, vitamin biosynthesis and immune protection, and is associated with diarrhea, malabsorption and systemic invasion by microbial pathogens. A therapeutic diet and infection treatment may be unable to restore bifidobacteria and HMAGM. Besides re-feeding and antibiotics, future trials including non-toxic missing microbes and nutrients necessary to restore bifidobacteria and HMAGM, including prebiotics and antioxidants, are warranted in children with severe or refractory disease.