Alternavita Daily 
February 20, 2019©
Start being brave about everything.
St. Catherine of Siena
Avoid Coconut Oil And Mct Oil For Inflammatory Conditions
Stick With The Tried And True
Due to being a highly absorbable oil and not requiring digestion I had hoped Mct Oil would be beneficial to those having trouble digesting oils, those with liver problems, those without gall bladders, those with lymphatic problems and those with metabolic syndrome, as long as the oils were properly refined (non chemical refined).
Oops.
I was giving these oils to my dog for severe inflammation and experienced disastrous results. He has since recovered somewhat thanks to olive oil, fish oil, vitamin E, colostrum and whole fat mammal milk.
Upon further research it has been discovered that those oils unless in combination with fish oil or olive oil are not beneficial and are extremely damaging to those with over inflammatory conditions such as MS, or colitis. My aging dog (14) has severe inflammation due to arthritis. These oils when used alone may be beneficial in those with an immunodeficiency state but not in those with hyper inflammatory conditions unless combined with other non inflammatory oils.
My apologies. I have removed all references for Mct Oil and coconut oil from this site except where it is not possible to do so. I have added warnings under such references in the case where these oils were combined with fish oil to achieve immune balance benefits and to reverse whatever immune state the patient is in whether it be immune deficient or hyper-inflammatory.
I use coconut oil and baking soda to brush my teeth and iodine (the best mineral for dental health). I use it to make popcorn which it is great for but no, I never felt coconut oil was particularly helpful for my condition during the last coconut oil craze of a decade ago. I have not tried Mct oil on myself but have on my dog, I also added coconut oil recently to his diet due to poor appetite issues. I knew the dangers of coconut oil in high doses but felt the proper dosage of 1000 mg. per day would not be harmful to anyone. Unfortunately for him half that dose showed no benefit whatsoever, and in fact quite the opposite, it worsened his condition dramatically. Even though these were the results with an animal I felt it best to remove them from my site as I also know coconut oil has had similar consequences in people with a history of colitis. My only excuse, he is extremely finicky, and will not take pills of any kind, no matter how they are disguised. Since they were neutral flavor I thought a little extra fat from coconut oil would do him good. He also has senility.
He got 1/8 tsp. per day of Mct oil and 500 mg. of coconut oil for about two weeks. It did not help his inflammation. Stick to topical applications of coconut oil only in pets.
I do not use fish oil aside from cod liver oil in winter. I use a range of oils for cooking including natural lard but primarily use olive oil and grass fed butter (I avoid soy and vegetable oils completely). I get the majority of my oleic acid benefits from whole fat mammal milk. If I use any oil to dissolve colostrum I use olive oil.
This merely illustrates that a range of beneficial oils, that is, SCFA's, MCFA's and LCFA's are required for both inflammatory and anti inflammatory balance. The balance necessary as achieved in immune homeostasis and which can be achieved with the tried and true. It is also helpful to know which side you are, whether TH1 or TH2 before embarking on the use of oils to correct such an imbalance. If inflammatory stick with only known non inflammatory oils such as olive oil and NEVER over dose any oil. The same is true for vinegar, which also increases ketones (and is highly acidic), do not over dose.
Lessons learned.
Stick with the tried and true and don't believe the hype!
(It might not be trendy but it sure isn't dangerous).
Thus, MCT increase the susceptibility to colitis through oxidative damage and IL-8 synthesis in intestinal epithelial cells.
MCT group in experimental colitis exhibit severe disease activity, higher levels of inflammatory cytokines in the colon compared to the olive oil group.
The Dark Side Of Coconut Oil: A Cautionary Tale For Coconut Oil Extremists.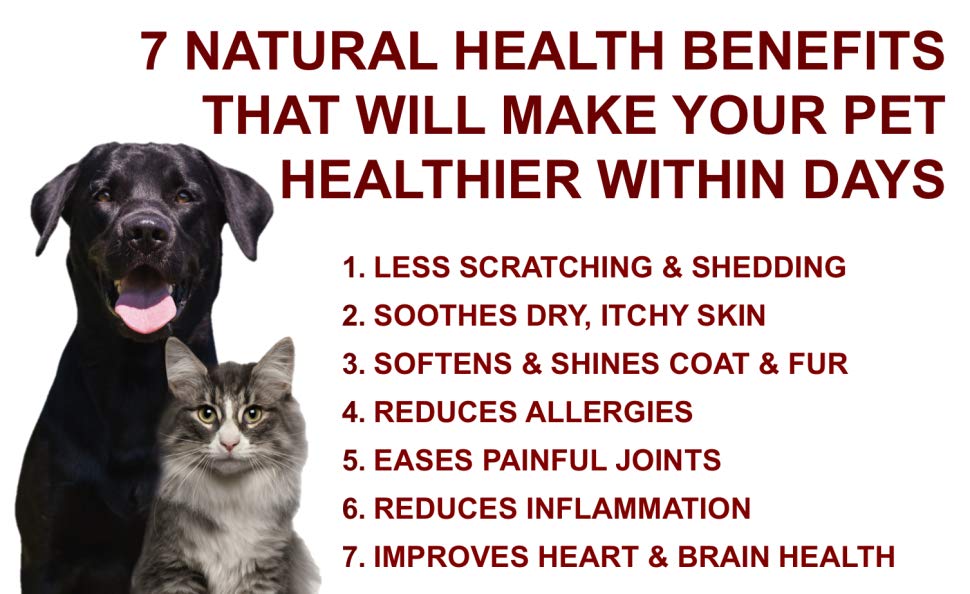 Salmon Oil I

s Be

st For Pets
General Recommendation Daily Dose:
1/4 tsp. for cats 
1/2 tsp. per 20 lb. body weight for dogs
Some same product links reflect different amounts, all products below had high consumer ratings. 
Pure Wild Alaskan Salmon Oil for Dogs & Cats – Best for Scratching, Joint Pain, Skin & Coat, Immune & Heart Health. All Natural Omega 3 Liquid Food Supplement for Pets. EPA + DHA Fatty Acids. 32oz
Pure Wild Alaskan Salmon Oil for Dogs & Cats – Best for Scratching, Joint Pain, Skin & Coat, Immune & Heart Health. All Natural Omega 3 Liquid Food Supplement for Pets. EPA + DHA Fatty Acids. 16oz
Life Line Pet Nutrition Wild Alaskan Salmon Oil Omega-3 Supplement for Skin & Coat – Supports Brain, Eye & Heart Health in Dogs & Cats
Life Line Pet Nutrition Wild Alaskan Salmon Oil Omega-3 Supplement for Skin & Coat – Supports Brain, Eye & Heart Health in Dogs & Cats
100% Pure Wild Caught Alaskan Salmon Fish Oil for Dogs, Cats & Horses, Ethically Sourced Premium Pure Potency EPA & DHA Omega 3 & 6 Fatty Acids, Promotes Glossy Coat, Immune Support, Hip & Joint 16 oz
Pure Wild Alaskan Salmon Oil for Dogs & Cats – Supports Joint Function, Immune & Heart Health – Omega 3 Liquid Food Supplement for Pets – All Natural EPA + DHA Fatty Acids for Skin & Coat – 8 FL OZ
Pure Wild Alaskan Salmon Oil for Dogs & Cats – Supports Joint Function, Immune & Heart Health – Omega 3 Liquid Food Supplement for Pets – All Natural EPA + DHA Fatty Acids for Skin & Coat – 32 FL OZ
Grizzly Salmon Oil Omega-3 Fatty Acids All-Natural Dog Food Supplement Supporting Healthy Skin, Coat, Joints and Organs (Certified Wild Caught Alaskan Salmon), 32 oz
Salmon Oil for Dogs, Cats, and Horses, Fish Oil Omega 3 Food Supplement for Pets, Wild Alaskan 100% All Natural, Helps Dry Skin, Allergies, and Joints, Promotes Healthy Coat, Helps Inflammation, 16 oz
Paws & Pals Wild Alaskan Salmon Fish Oil Omega 3 & 6 for Dogs and Cats – Anti Itch Skin & Coat + Allergy Support – Hip & Joint + Natural Arthritis Dog Supplement – in Liquid or Chew Bite Treats