The Combo Oils That You Need To Decrease Inflammation
What can you do to decrease inflammation fast?
Welcome to the March issue of Alternavita Monthly© magazine!
In this issue learn why the right oils are necessary to decrease pain and inflammation, especially in the gut, and how science is finally understanding not only their importance but why previous studies may have been misleading by not including this important addition that alleviates oxidative stress, especially in fish oils.
Some oils while beneficial are extremely prone to oxidation and this includes fish oil. In addition the oils that fish consume can have a direct impact on the resulting fatty acid composition that ends up in you. Plant based Omega 3's like flax are also not as beneficial as previously thought even while they are presumed to be equivalent. Contrary to current trends some popular oils like coconut and Mct oil are highly inflammatory when used alone as a treatment option. Learn which oils offer across the board benefits and include them in small amounts in your healthy lifestyle plan.
Thanks for reading this March issue!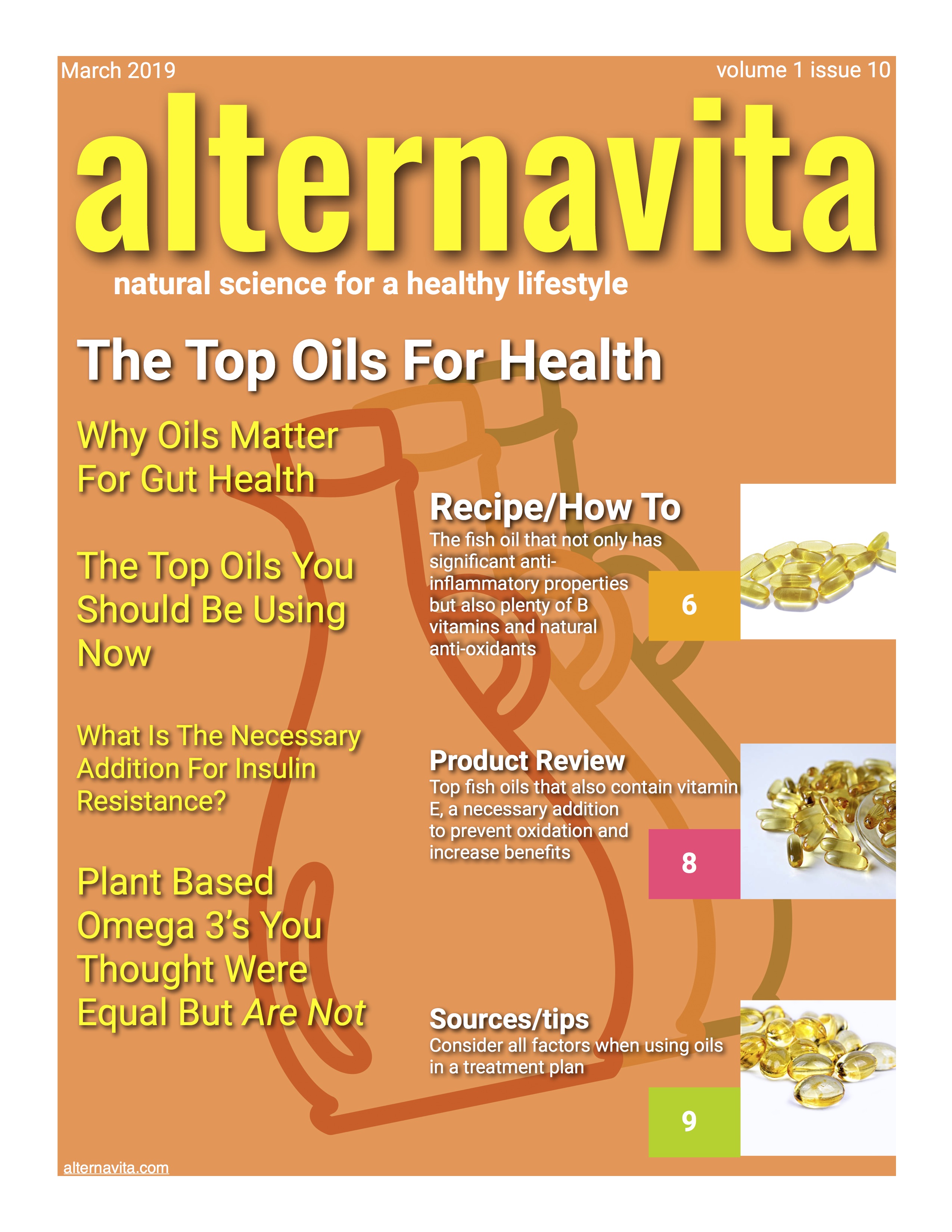 Remember all sources can always be found in the library, under about section.
Just a preview of the known benefits covered in this month's issue.
The Top Oils For Health
1. Olive oil polyphenols reduce oxysterols -induced redox imbalance and pro-inflammatory response in intestinal cells
2. Marine fish oil is more potent than plant-based n-3 polyunsaturated fatty acids in the prevention of mammary tumors
3 Supplementation of n3 long-chain polyunsaturated fatty acid synergistically decreases insulin resistance with weight loss of obese prepubertal and pubertal children.
4. N-3 polyunsaturated fatty acids restore Th17 and Treg balance in collagen antibody-induced arthritis
5.   Cell activation state influences the modulation of HLA-DR surface expression on human monocytes/macrophages by parenteral fish oil lipid emulsion
6. Resolvin E1 Regulates Inflammation at the Cellular and Tissue Level and Restores Tissue Homeostasis In Vivo
7. Docosahexaenoic Acid Induces Cell Death in Human Non-Small Cell Lung Cancer Cells by Repressing mTOR via AMPK Activation and PI3K/Akt Inhibition.
8. Docoxahexaenoic Acid Induces Apoptosis of Pancreatic Cancer Cells by Suppressing Activation of STAT3 and NF-κB
9. The Effects of Omega-3 Fatty Acids and Vitamin E Co-Supplementation on Indices of Insulin Resistance and Hormonal Parameters in Patients with Polycystic Ovary Syndrome: A Randomized, Double-Blind, Placebo-Controlled Trial.