alternavita
alternavita magazine©
natural science for a healthy lifestyle
Alternavita Monthly Magazine-© is a web and print publication featuring popular posts from the blog Alternavita as well as new recipes, how to's, products, tips and resources designed for the average reader who desires a healthy lifestyle with relative ease and effort, no extremes and most importantly, one that shows clear evidence as produced by current leading edge valid scientific method clinical science.
in this issue:
Combatting Protein Energy Malnutrition With Liquid Whey
What can you do to alleviate the worldwide problem of protein energy malnutriton (PEM)?
In this July 2018 issue of Alternavita Monthly Magazine© learn about liquid whey, another waste by product that can help alleviate worldwide malnutrition as well as help you combat serious health problems caused by poor diet malnutrition, namely protein energy malnutrition, including the detrimental effects that this particular form of malnutrition can have on gut, immune, mental and reproductive health, especially for non milk drinkers who are not able to derive the important benefits as can be found in milk due to severe casein intolerance. Forget the coffee and see real energy benefits from this form of pure, fast absorbed protein!
You will also learn the easiest method of obtaining liquid whey that retains all the probiotics of the pre-strained product and then concentrates others in their 100% bio available forms. Finally, what to do with the cream cheese leftover and how to use all that whey to make healthier fermented fruit juices with less sugar.
Thanks for reading this July 2018 issue!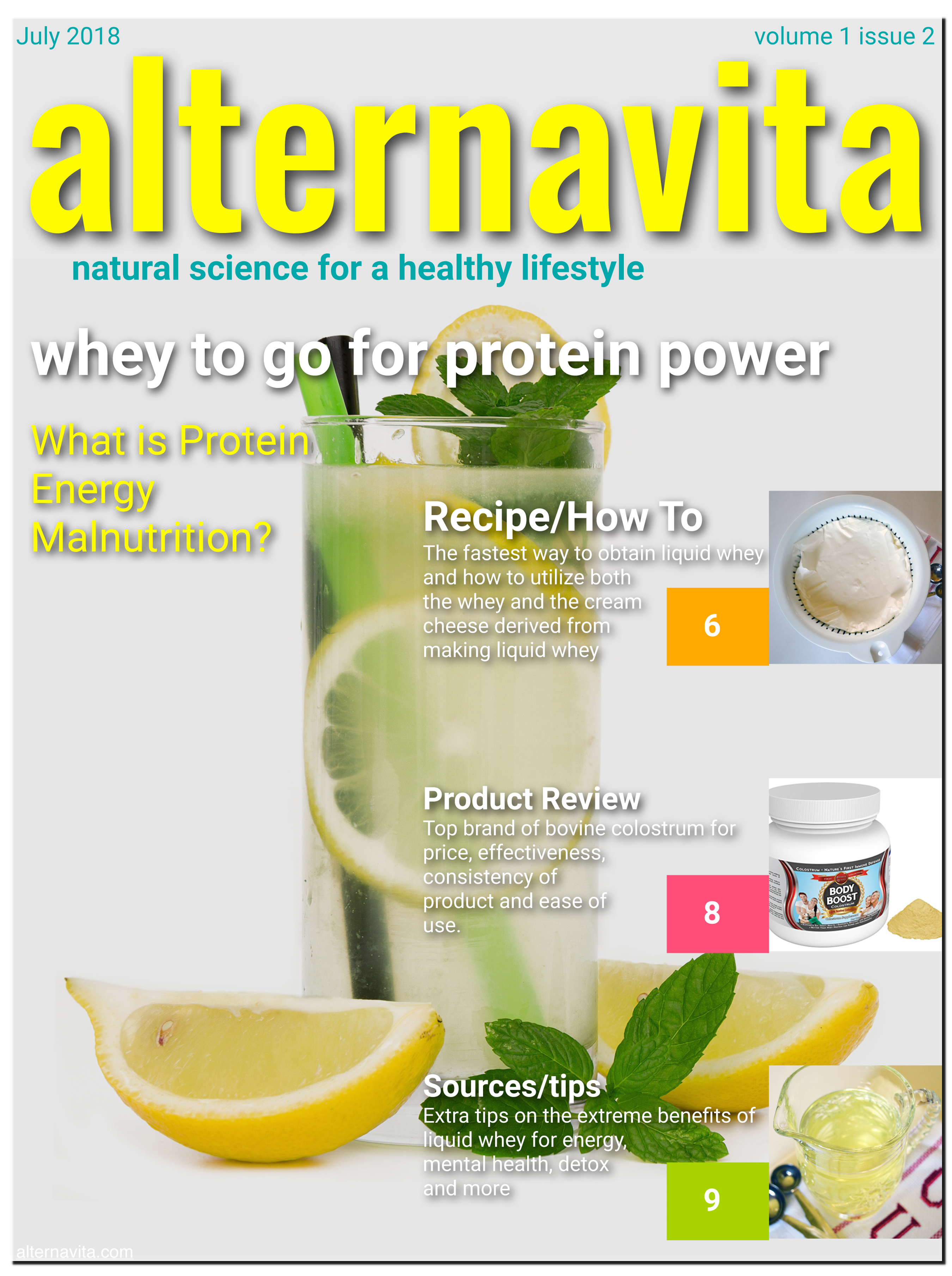 10 pages.
$1.99
Save
Save
Save
Save
Save