alternavita
alternavita magazine©
natural science for a healthy lifestyle
Alternavita Monthly Magazine-© is a web and print publication featuring popular posts from the blog Alternavita as well as new recipes, how to's, products, tips and resources designed for the average reader who desires a healthy lifestyle with relative ease and effort, no extremes and most importantly, one that shows clear evidence as produced by current leading edge valid scientific method clinical science.
in this issue:
Kefir is the champagne of probiotics
Why you should take advantage of the amazing benefits of kefir daily for prevention and reversal of common syndromes

Welcome to the August
issue of Alternavita
Monthly© magazine!
Kefir is an amazing functional food that has benefits that extend far beyond the basic organisms as can be found in yogurt and that are important for metabolic health, including brain metabolism, immune function and intestinal homeostasis and is being researched today for its anti cancer properties against difficult to treat cancers like lung and liver cancer. It is also a nutritional powerhouse that creates crucial vitamins and bio active minerals that are nearly impossible to assimilate from food or a pill. Kefir is an easily tolerated milk alternative.
You will also find a super easy, tasty, sugar free (or not) chocolate mousse recipe made from kefir cream and some easy tips to make the most of kefir as a tool for reducing sugar content in food, especially fructose. The product review features a very good commercial kefir starter that is easy to use and packed with lactic acid bacteria and friendly yeast.
Thanks for reading the August issue!
10 pages
$1.99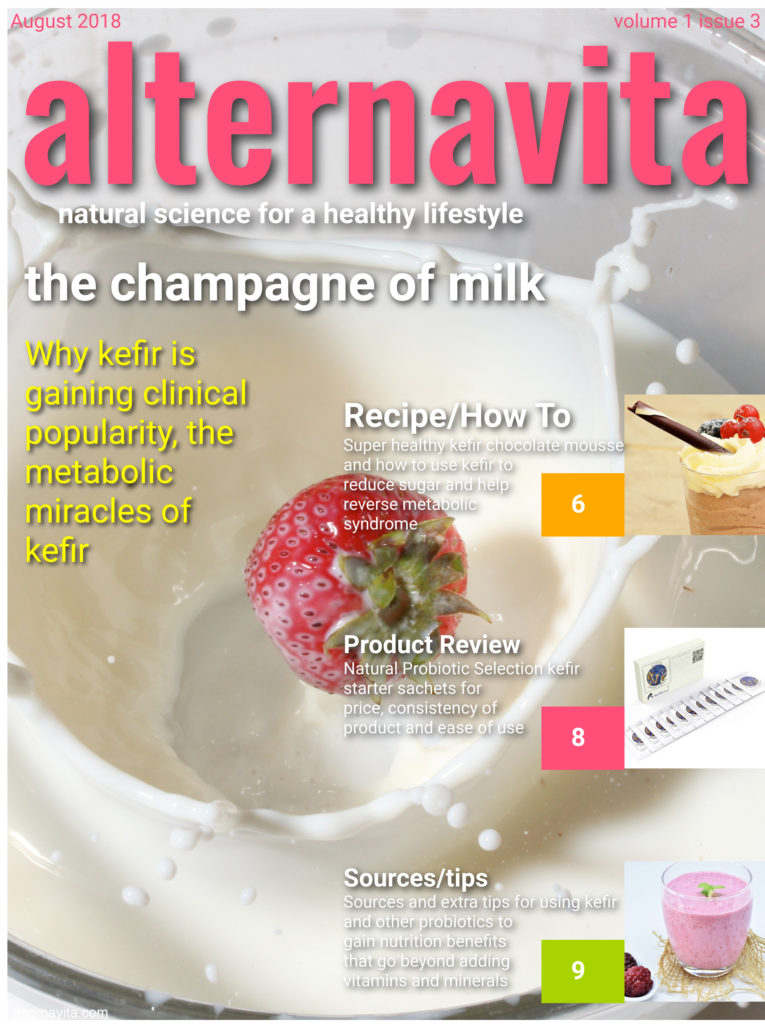 Save